Winter Break 2005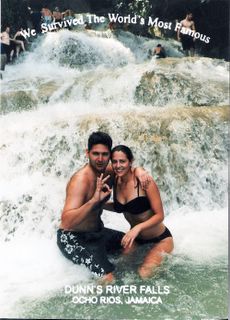 This past winter vacation was wonderful. IBM gives a generous amount of vacation and I had plenty saved up so my girlfriend and I planned a whirlwind itinerary. It actually came about with a mix of me stumbling on a cheap flight to the Bahamas, my parents returning from a 26 day cruise on Oceania's
Regatta
and my girlfriend's family vacation to Jamaica.
It started off with a few days at the Atlantis Resort & Casino in Paradise Island, Bahamas. We arrived on the 19th but my brother and sister in law arrived the night before and talked the hotel into providing an upgrade to the Coral Tower from the Beach Tower. From all the reviews I read on
Tripadvisor
I was expecting alot of cheese but the experience turned out to be wonderful. The property is great and the service was actually pretty good. Anyways, we ended up chartering a boat for half a day, ate at Dune a wonderful restaurant at the Ocean Club, did well in the casino and had an easy 45 min. flight back to Miami.
After hanging out with the family for a few days, playing some tennis and whatnot, my girlfriend took off to meet up with her family at the Royal Plantation in Ocho Rios, Jamaica. A few days later I joined them at the resort and we had an enjoyable time. The resort looked very exquisite on their
website
and the surroundings were secluded and lush but the service left something to be desired. If anyone wants to learn more, check out my review of the property on
Tripadvisor
. Finally and back to the picture above, my girlfriend's mother planned a tour one of the days that was supposed to be a boat ride to Dunn's River Falls but turned out to be a whole day excursion of snorkelling, boating with free beer and rum punch. All the reviews of the falls say that its usually mobbed, but I think we really lucked out since there were no cruise ships in port. Anyways, we took this photo about halfway through the climb and it could be one of the funniest pics I've ever taken. Enjoy!