Record Snow Day in NYC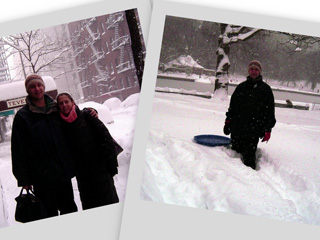 So, no big stories with this post, but I wanted to post two pics that show how beautiful the recent record snowfall was. The event started on Saturday night, 2/11. Amy and I caught a late movie at Kips Bay, "Good Night and Good Luck," which paralleled the news situation today...I digress. It was barely snowing when we entered the theater but by the time we got out, there was already 2+ inches on the ground...a great start. Hoping for more snow the next day, I went to bed feeling like a little kid.
Fast forward to 5:30am on Sunday and about 5 fire trucks roaring to a halt on my block. Amy slept right through it, but I got up to see what the racket was. Not only was there snow galore outside but apparently the firemen didn't even get out of their vehicles. I guess it was none other than Ethan's personal NY fire department alarm clock. Darn, forgot to turn it off last night. Anyways, it was hard to fall asleep after seeing how much snow was coming down.
After we woke up, I threw on ski clothes and we headed up to Amy's apt. to grab some ski
clothes
for her. We trekked to the 70's to meet up with Amy's friend,
Molly
, her husband
Matt
and their 2 year old son
Max
. After a little pizza for lunch, we trekked over to Central Park and met up with Molly's mother, Erica. Since Max hadn't really seen snow this deep, he sorta had enough after about 15 minutes in the park, but since Amy and I are kids at heart, we kept playing.
The snow was deep. I know the
news
reported 26.9" of snow but it felt like alot more. You can see how deep it was in the picture above. Anyways, we really had a fun afternoon; warm cider at the boat house and sledding in Central Park. For those of you who experienced it first hand, share your comments. For those not in NYC, enjoy the pics...